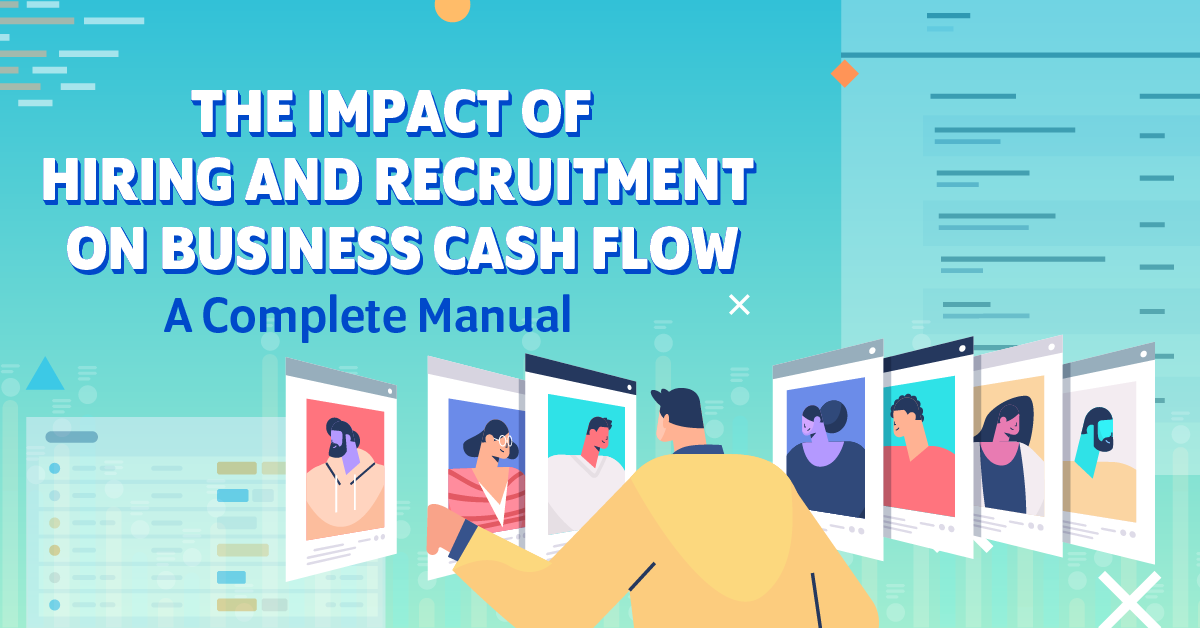 Much like any other business procedure, the hiring and recruitment process takes up a lot of your valuable time and resources as it entails several underlying costs. These costs include, funding job advertisements, onboarding staff members, paying for training, etc.
Suppose there are no business finances to cover the total expenses of the procedure. In that case, business owners may find themselves needing to put the whole hiring program on hold until they properly regain their momentum and profits.
This scenario is proof that hiring and recruitment go hand-in-hand with business cash flow. For more information about their relationship, check the infographic below.

The Cost of Hiring and Recruitment
Hiring a new employee automatically means that a business will need to face additional costs for their salaries and other compensations. To give you an idea of what these costs amount to, refer to the statistics below.
In 2019, small companies spent, on average, more than $1,500 on training per employee.
According to a 2019 Training Industry report, $1,286 is spent annually for the training requirements of each employee per company. This is equivalent to 42.1 hours that a recruit spends on learning the ins and outs of their position.
A company can take up to 6 months to break even on the investment from its new hire
The Struder Group estimates that it takes an average of 6.2 months for mid-level managers to reach a break-even point on their investments in a recruit. This is because it takes time for an employee to gradually adapt to their new position to build up efficiency over time.
Salary plus the benefits of an employee can cost an average of $62,500 to $70,000 annually for an employer, based on their base wage of $50,000.
Boston Business Journal states that this salary is about 1.25 to 1.4 times the base salary range as, typically, employees earn an average of $50,000 annually.
New employees take more than 12 weeks to reach full productivity.
After the initial training, employees typically function at 25% productivity. They're being paid 100% of their wage during this period so their low productivity is equivalent to a loss of 75% of the employees wage for that period. Full productivity is achieved at around the 12 week mark.
Companies spend an average of 82 days finding a person to fill a new position.
According to the 2019 research by ELMO Software, this is equivalent to around $21,000per hire. During this time, a company also spends on the necessary equipment and training programs that a new employee needs.
7 Components of Hiring and Recruitment Costs
The cost of hiring and recruiting new employees covers numerous factors that include the following:
Recruitment costs cover the initial advertisement of a job opening and the time spent by the recruiter. It also comprises the necessary paperwork and procedures to complete the hiring process.
Internal and External Hiring Teams
These costs refer to outsourced groups that handle all HR tasks for the company. Typically, these expenses are significantly cheaper than an in-house recruitment team.
The cost of job ads can vary depending on where it is posted. Billboards, newspaper ads, and online recruiting allow companies to have more chances of receiving applications.
The onboarding process includes introducing the employee to the company and its policies. Costs may cover resources needed to create manuals, orientations, etc.
Most companies rely on special software or hardware to train new employees to do their tasks based on established workflows.
This is one of the largest expenses for a company to cover including government-mandated benefits, such as superannuation.
An employee requires the proper equipment and tools to do their job efficiently. At the same time, they also rely on company resources to adapt to the work environment they are placed in.
How to Manage the Hiring and Recruitment Costs
Your company can slide through the hiring process with ease by making use of these strategies to organise your procedures.
Employee referral programs are common and encourage employees to continuously introduce new contacts who might fit open positions. Once a referral is hired, the employee who passed on their application can receive incentives such as cash bonuses once the new hire passes the probationary period.
Social media is one of the best ways to reach out to today's generation of workers. Posting job ads on these platforms costs less and can get you more attention through shares and post engagements. Simultaneously, it allows you to vocalize your brand on the platform and establish yourself with an audience.
Limit the number of candidates
Establish how many positions you can afford to open at a given time, to know how many applications you can take in. Once you've reached a maximum number of applications, close the job ad temporarily to allow you time to go through them. This will allow hiring teams to avoid feeling overwhelmed while staying focused on high-priority positions.
Talent pools and alumni networks are a list of contacts that companies can approach whenever a new job opens up. Contacts in these groups are most likely to already be pre-qualified and can make the hiring process easier and quicker to manage.
Apply for invoice financing
Invoice financing is a common business solution that allows you to manage the necessary funds to cover your company's expenses, such as hiring and training new employees. Invoice or business financing can allow your company to accelerate cash flow from unpaid invoices, which can be used to pay off your recruitment costs.
Consider a labour hire or recruitment agency
Outsourcing your hiring and recruitment tasks is one of the most common ways businesses can cut down on operational costs without sacrificing quality. These third-party companies can be hired based on a contractual agreement or for the longer term. With this option, it is important to do proper research on the company you are hiring and see if they can meet your expectations and needs.
Productivity through Investments
Hiring new employees can be a costly task that companies may need to face regularly. Unfortunately, not every business can afford to continuously cover these expenses.
Financing solutions can help you manage the costs of recruiting. Earlypay offers competitive invoice financing options to help your business stay afloat. For more information, contact our team today.

If you'd like to learn how Earlypay's Invoice Finance & Equipment Finance can help you boost your working capital to fund growth or keep on top of day-to-day operations of your business, contact Earlypay's helpful team today on 1300 760 205, visit our sign-up form or contact [email protected].