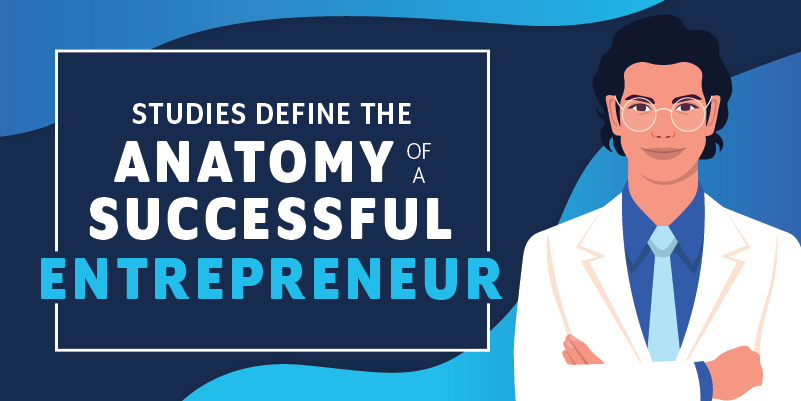 Every business owner gets first-time jitters. You may be unsure about your business model, or not feel entirely confident that this is the right time to dive into a new venture. You question yourself - "Do I have the right skills? Will my passion or ambition be enough to make me a successful entrepreneur? How will I finance my venture?"
Having these kinds of reservations is normal. Establishing a business can involve spending a lot of money so the pressure to perform well financially can be stressful.
According to a study from the Harvard Business School, one of the key traits of entrepreneurs, unsurprisingly, is a high desire for achievement. The goals for individual entrepreneurs can vary significantly however and are often not financially based. In fact, it is often entrepreneurs with purposeful (non-financial) goals that achieve success as that purpose motivates them to keep showing up through the inevitable tough times.
Studies have also shown that there are specific sets of characteristics and qualities that contribute to entrepreneurs being successful in business.
Find out in this infographic what makes business high achievers who they are.

The Anatomy of a Successful Entrepreneur
Anyone can start a business, but not everyone is successful at it. This issue has inspired researchers to look into traits or characteristics that are commonly associated with entrepreneurial success.
For those who have succeeded in business, it all starts by having a great and unique concept. They then develop and manage a company based on that idea, while nurturing an entrepreneurial spirit as they work hard, and smart.
If any of these descriptions fit your personality, you may be well suited to being a successful entrepreneur.
Business-minded. Business-minded individuals have a unique ability to recognize where the opportunities are. Whether it's about coming up with a new product, identifying market gaps, or forming profitable partnerships.

They immediately seize these opportunities before someone else does. In the words of a successful businessman, Virginia Airlines's founder Richard Branson, "If somebody offers you an amazing opportunity, but you are not sure you can do it, say yes—then learn how to do it later."

Risk-taker. A study by Harvard Business School in 2017 suggests that entrepreneurs commonly exhibit the trait of being risk takers, and that despite the associated risks involved in starting your own business, about 400,000 individuals in the United States attempt to establish their startup every year.

Needless to say, you need to approach risk-taking with a certain degree of caution. You don't want to rely on your "lucky break". Instead, you should learn to understand the nature of risk and how to take calculated business risks.

People person. If you know how to get people to listen to you, it indicates that you have good persuasion skills. You're the perfect person to sell your products or motivate your employees, which is especially true if you know the business from inside out. Even if an idea seems too absurd, you will be able to sell that idea with your persuasion skills.

Logical and critical thinker. Although there are some fortunate exceptions, successful entrepreneurs generally make decisions based sound reasoning and data-driven insights not gut feel.

They tend to set aside their emotions when making decisions for the company, but this doesn't necessarily mean that they don't care about how others feel. They simply accept feelings as feelings, so they choose not to react to them.

Financial thinker. It's natural for business owners to think in terms of profit and savings, with the awareness that good cash flow can lead to business stability and the opportunity for growth. History is riddled with the failure of entrepreneurs that had a great idea but couldn't make it a success due to poor financial management.

Adaptive to change. Business owners have a forward-looking attitude. They like studying market trends and analyzing where the industry is headed so that they can face any upcoming challenges head-on.

Companies that are shifting to digital technologies are an excellent example of how successful entrepreneurship depends on approaching things with an open mind and changing the course as needed.

Confident. Although entrepreneurs sometimes fall for the self-doubt trap, they choose not to dwell in it because it will stop them from reaching their goals. They are positive thinkers who adopt a growth mindset and believe that they have what it takes to make the business succeed.

Determined and resilient. Business tycoon Jack Ma says leadership is about determination. At the time when he wanted to launch his business, instead of worrying about the limited opportunities in China, he remained steadfast, believing that he should do whatever it takes to get things off the ground.

Passionate. In many organizations, no one is as passionate as the owners themselves. They arrive at the office first and are also the last to leave. They rarely take unscheduled vacations or call in sick. You can see them online 24/7.

These things mean that they're willing to work extra hours reading and researching to bring the business where they want it to be. Often, it's not just about the thought of making money that gives them joy; rather, it's seeing their brainchild grow.

Goal and results oriented. For enterprising individuals, goals and results always work together. One can't possibly set a goal and just wait for somebody else to start work on it, which is why self-starters get further ahead than their peers as they understand that the journey is made up of many single steps.

Competitive and creative. Successful entrepreneurs are creative thinkers. They are always coming up with new ideas and better ways of doing things. They won't back away from challenges, competition, or risks.

As American entrepreneur Victor Kriam said, "Entrepreneurs are simply those who understand that there is little difference between obstacle and opportunity and are able to turn both to their advantage."
The Journey to Business Success Starts with You
Dreaming to be the best entrepreneur in your league requires that you have the right skills and attitude. Although there's no single way of defining what or who makes an ideal entrepreneur, a healthy dose of the above traits will balance the odds in your favour.
Start your journey to entrepreneurial success and reach out to an organization that offers financing for small business. Earlypay offers a broad range of financing options for start-ups and growing businesses. Contact us today!
If you'd like to learn how Earlypay's Invoice Finance & Equipment Finance can help you boost your working capital to fund growth or keep on top of day-to-day operations of your business, contact Earlypay's helpful team today on 1300 760 205, visit our sign-up form or contact [email protected].