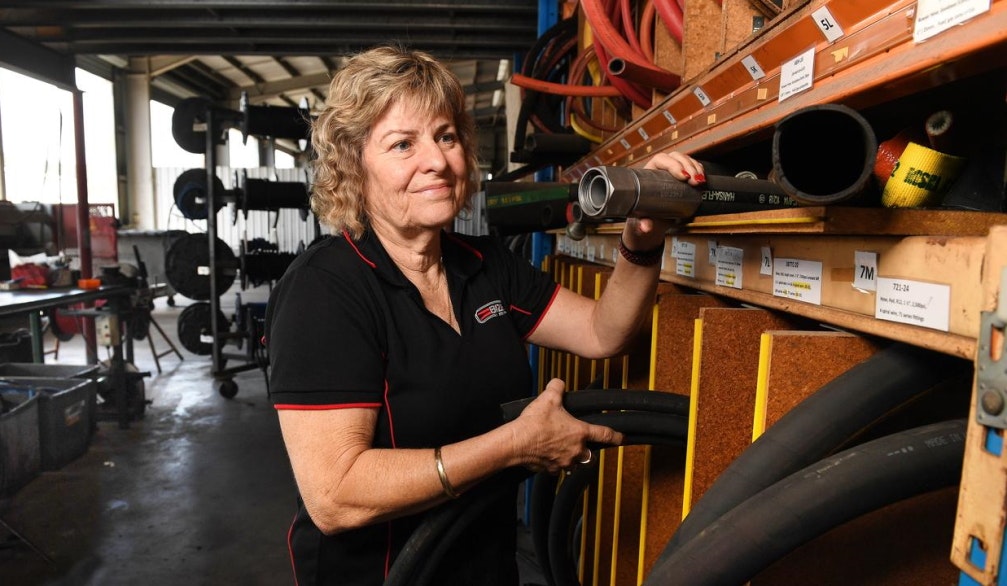 Jan Flynn is the owner and manager of ENZED Townsville, one of the busiest hydraulic businesses in the north.
"North Queensland is home to a significant portion of Australia's resources and we provide parts and workshop services to a broad range of industries that operate in the sector," Ms Flynn said.
In mining, Queensland ranks as one of the largest producers of lead, zinc, copper, bauxite and gold in Australia and North Queensland is renowned as a rich mineral province. Townsville is centrally located to provide a huge range of mineral refining, construction and engineering services to support the mining industry and many large companies have set up within the Townsville region.
"I'm very proud of what we've achieved so far. Our business keeps industries going but we've had to overcome quite a lot of challenges to get to where we are today," Ms Flynn added.
"As an older woman working in a very male dominated industry it hasn't been an easy ride.
I've been a hands-on manager at ENZED Townsville for over 11 years and prior to that I was in the same role at another company delivering similar services for many years.
"I actually started working in the mining industry, both surface and underground when I was much younger and have worked in a number of roles until owning my own franchise business supplying hydraulics parts and service.
"In the early days, I'd get calls from males seeking parts but they'd want to speak to a man, and even though I'd advise I could help, they'd insist on speaking to a man.
"I'd put my husband on the phone, he'd take the call and pass the details on to me and I would solve the problem for them anyway. I have put up with a lot of sexist and demeaning behaviour over the years but gladly that has improved significantly.
"Thankfully these days most clients are amazing and trust me because they know that I can help them solve their problem quickly, I understand hydraulics and machinery and have experience and knowledge to deliver the best outcome.
"I suppose you could say, I am that quick call, Go-To problem solver."
Ms Flynn puts her success down to four things.
Be flexible and tolerant
"I have found that if I just focus on helping people solve their problem, I win and they get a great outcome every time," Ms Flynn said.
"If a customer says something sexist, I stay calm and importantly maintain focus on solving their problem. That way I'm helping the customer and they remember that next time and come back again, so business increases. I believe, providing the best ongoing service always, demonstrates our best qualities and word of mouth is the best form of advertising, regardless of whether it's a man or a woman."
Keep up to speed with the latest tech in the industry
"The construction and mining sector is big business and always evolving," Ms Flynn said.
"I work hard to ensure our business is at the forefront of providing a quality product and service to all equipment owners always. To equipment owners, either big or small business, keeping their machinery operating is paramount, so reduced downtime is vital to their business.
"I own the business and manage all operations but also spend time in the workshop making hoses, managing inventory and serving customers face to face every day so am practical and hands-on as well."
Keep the cash flow rolling in
"Operating in the construction and mining sector has challenges and at times is just downright difficult including some volatile payment terms from larger customers," Ms Flynn said.
"At the very outset, I identified that cash flow was something that needed careful management to maintain a regular and reliable cash flow into the business regardless of all customer's payment terms. The costs of purchasing stock, wages and overheads also need to be managed, hence, a consistent cash flow into the business from day one was required to achieve this.
"Right from the start, I set up Invoice Finance with Earlypay. Using Invoice Finance I was able to use my invoices as collateral to generate payment upfront. This kept a consistent cash flow coming in with no strings attached. It was simple and easy and didn't even require any trading history.
"Today, we still use Invoice Finance. I think every business should use it. Earlypay also manages our accounts receivables so I don't have to chase up payments. It is all capably managed by Earlypay which saves me all that extra time and work."

Get to know your customers
"One of the most important things in business is knowing and understanding your customers and their needs. This is the most essential factor," Ms Flynn explained.
"We work hard to build strong relationships with all our customers so when they need help we know exactly how we can assist them. It also ensures from a business perspective we are operating and offering quality services and capabilities that are most important for our market.
"We can also invest in key areas that will yield great outcomes for our customers and our business into the future."
Accelerate your business growth potential
If your business operates on a B2B model, you might be eligible to access the cash flow solution that helped Jan fast-track her business success.
With Low Doc Invoice Finance, we offer automatic pre-approval for certain industries. Check your eligibility today to see if you qualify.
If you'd like to learn how Earlypay's Invoice Finance & Equipment Finance can help you boost your working capital to fund growth or keep on top of day-to-day operations of your business, contact Earlypay's helpful team today on 1300 760 205, visit our sign-up form or contact [email protected].