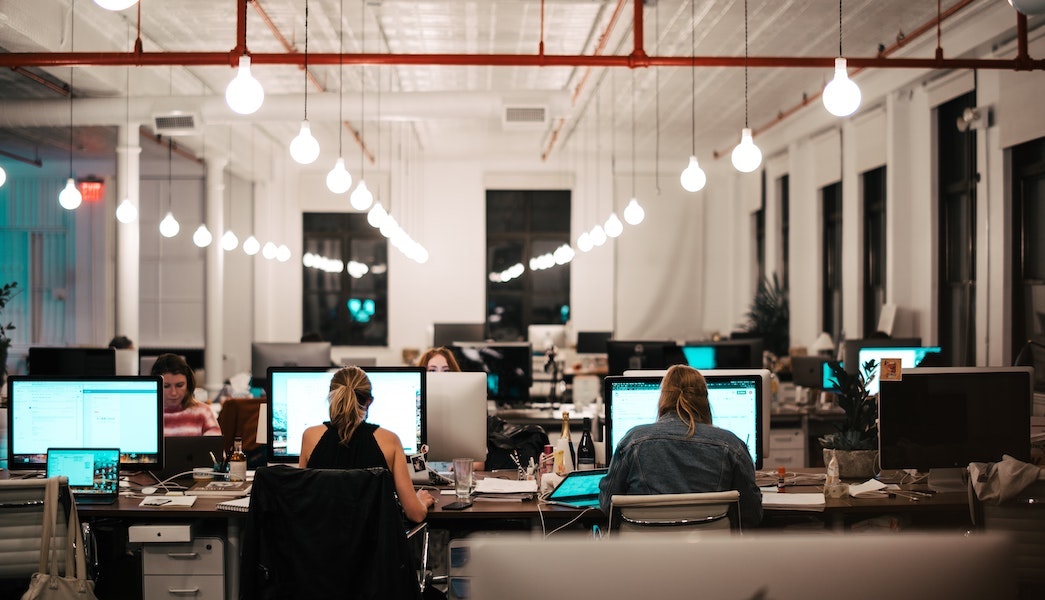 How best to plan out your employees work-from-home/office balance moving forwards.
As Australia's COVID-19 vaccine rollout continues, and our states and territories record longer periods between reported COVID-19 cases, more and more business owners will begin bringing back employees into offices.
With COVID-19 restrictions easing - particularly in Melbourne and Sydney - it's understandable that business owners may feel unprepared to manage staff returning to work in the office.
Let's explore how your business can map out its employees' return to office and prepare them for adjusting back to office life.
Managing the work-from-home/life balance
While no one could argue that 2020 was an ideal year, it's interesting to note the beneficial shift that remote working has had on businesses across Australia. This is because work-from-home policies afforded a greater work/life balance for both employees and employers.
Whether it's a decrease in "wasted time" from commuting, increased chances for exercise, or reports of increased productivity and happiness, there is an argument to be made towards the advantages of working from home jobs.
A McCrindle Research survey of over 580 Australians found that 80% of respondents would be more likely to stay with an existing employer "should that employer provide them with the flexibility of working remotely or from home". A further 86% of respondents expressed the potential for "increased longevity in their current role" should teleworking (remote working) be made available to them.
In fact, over half of respondents slight or significant increases in productivity by working from home compared to their office environment. Over half (52% of men and 51% of women) are prepared to waive a percentage of their pay for greater flexibility in working arrangements.
It is clear that employees and business owners alike may benefit from taking on board some of the lessons that forced remote work has taught us. However, the impacts of work-from-home on the economy of major capital cities is worthy of note.
In 2019, Sydney's CBD generated $140 billion, which is around 7% of Australia's gross domestic product and 20% of the state's output. Without workers and tourists alike, work-from-home regulations will have made a significant dent in this figure.
Independent Economist, Terry Rawnsley, also noted that prior to COVID-19, the Melbourne CBD had a weekday population of about one million. Together these individuals, composed of office workers, retail and food service employees, students and more, generated around $104 billion last year. That's around 24% of Victoria's gross state product, according to the City of Melbourne.
How to manage returning staff to offices post-pandemic
So, how can businesses effectively bring back employees into offices - particularly those in capital city CBD's - and juggle this increased desire for remote working? With a greater focus on wellbeing, health and safety, and taking it one step at a time.
Here are some handy tips to help manage returning staff:
1. Assess your current office setup
If you've retained the same office space since pre-COVID-19, it is important that you reassess your business' strategy within this space and take stock of what challenges you may face with returning staff.
For example, does your state or territory still have distancing regulations in place for office spaces? You may need to separate workspaces to allow for 1.5m distances between each employee. If this limits the amount of returning staff your office can hold, it may be worth considering revolving days for certain teams.
You'll also need to prioritise sanitization, meaning increased or improved cleaning services and the addition of hand sanitizer at doorways. If your business is located in NSW, for example, you may need to register it with Services NSW's Covid Safe Check In system.
All of these factors will need to be considered, which may lead business owners to decide to continue flexible working or even downsize office spaces completely.
2. Clear communication
If your business is moving ahead with bringing back in staff, ensure you've clearly communicated the projected timeline of this change. For example, some offices may begin with 2-3 days a week back in the office, before rolling back to a full 5-day week after a few months. Also, if you're diving teams amongst days due to the size of your office, ensure this is clearly outlined as to avoid any distancing regulation breaches.
Further, as this shift may be significant for some employees, it's important that open communication and transparency is felt between owners and staff to ensure that everyone feels comfortable. Shifting employee mindsets and adjusting work habits may take time, and it's valuable that your employees feel they can communicate these pressure points with you if necessary.
3. Update office practices
Just as staff will need to adjust back into office life, business owners and management may need to consider updating office practices and improving workflows. Businesses may find that allowing workers flexibility with work from home opportunities can improve morale and increase longevity, as suggested by the McCrindle Research earlier.
Consider allowing requests for work-from-home days or allowing staff to choose one day a week to work remotely moving forward. You may be able to improve workflow and time management by taking on board practices from remote working. This may involve pivoting away from structured meetings that may be more beneficial as an online meeting or even an email.
Also, assess your current tools, equipment and technology and carefully decide whether it's worth investing in new or alternative options to encourage a more agile workforce. If you're going to allow staff to work remotely, have they struggled to access documents in the past? If so, consider cloud-based content management systems for example. Or if you've struggled to use platforms like Zoom, consider alternatives such as Google Meet.
If you have any concerns about returning to the workplace, social distancing regulations, or the end of JobKeeper payments, fairwork.gov.au offers an Interactive Employer Tool to provide employers with general information and assistance about your workplace rights and responsibilities when reopening, scaling up, or adapting your workplace during COVID-19.
For more information on business finance options offered by Earlypay, please contact our helpful team on 1300 760 205.
If you'd like to learn how Earlypay's Invoice Finance & Equipment Finance can help you boost your working capital to fund growth or keep on top of day-to-day operations of your business, contact Earlypay's helpful team today on 1300 760 205, visit our sign-up form or contact [email protected].