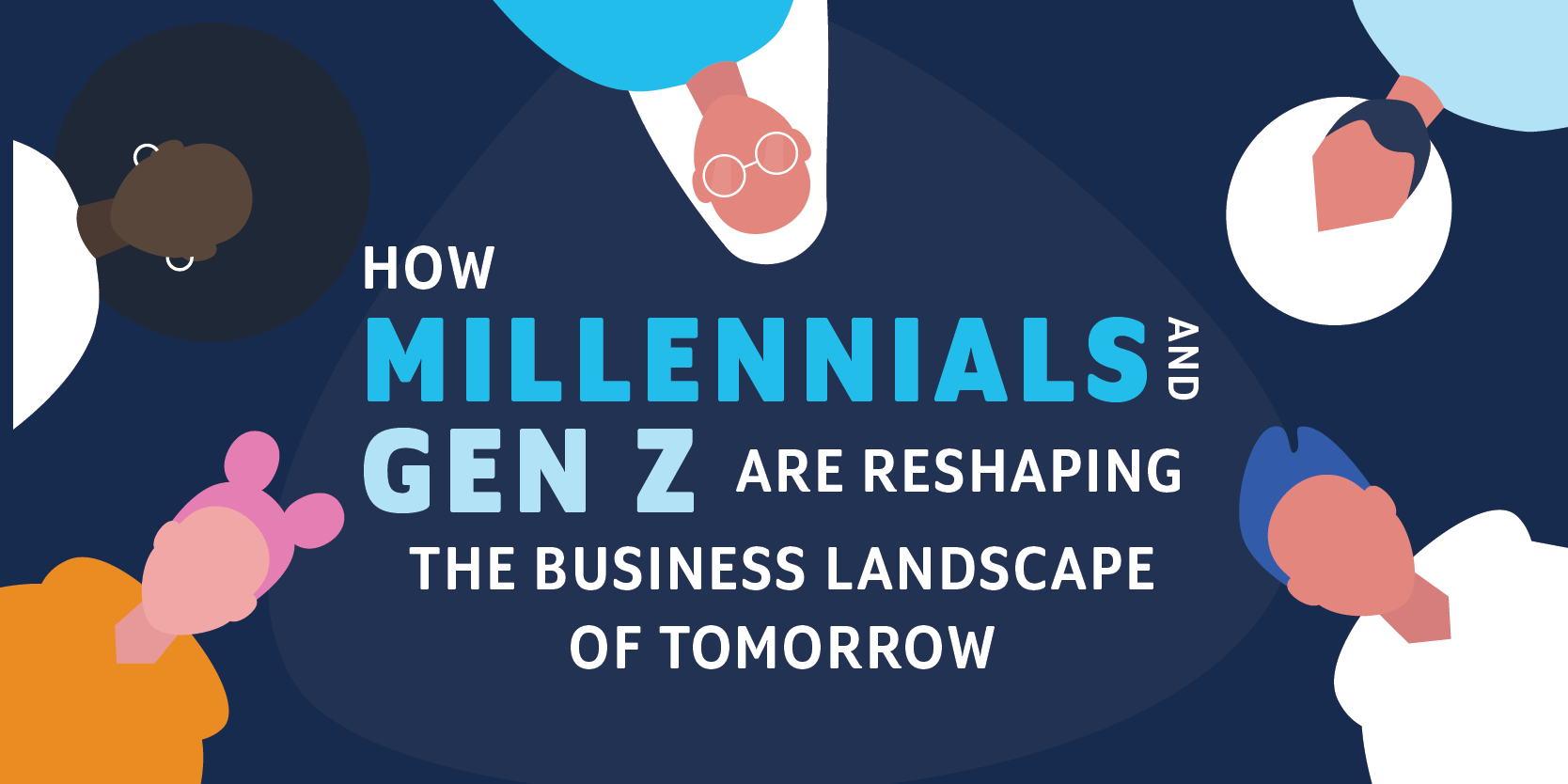 As the younger generations get older, it's expected that they'll take over almost every aspect of adult life: offices, businesses, governments, and much more. No more is the stereotype of the privileged, self-important millennial or Gen Z—instead, these two generations are demonstrating their talent for entrepreneurship and innovation, creating new spaces and ways to do business.
This infographic will take a deeper look into how these generations are changing the business landscape of today and building the future for tomorrow.

How Millennials and Gen Z Are Reshaping the Business Landscape of Tomorrow
1. Have high business acumen
The new generation of employees are no longer satisfied with being consumers. They want to take charge of businesses themselves.
In fact, a Bentley University study reports that 66% of millennials would like to start their own business. Gen Z shares the same aspirations, with 40% of surveyed students planning to start a revolutionary business or inventing a world-changing product.
What motivates these young entrepreneurs is the drive to innovate and pursue their passions alongside their careers. This dedication is backed up by their business know-how and increased learning opportunities. The results of these efforts point to success, with 80% of millennial-owned businesses reporting a profit.
2. Comfortable in the digital world
Millennials and Gen Z-ers grew up surrounded by the new age of technology—the advent of personal computers and mobile phones. Because of its proximity to their lives, both generations have adopted the latest technologies with ease. Gartner found that 38% of millennials surveyed own the "latest and greatest" personal devices, compared to 25% of baby boomers.
Because of their likelihood to adopt higher-end technology for personal use, the young generations were also expected to have a more encouraging view of IT strategies that incorporated personal devices. In addition, they have mastered a range of digital tools, including social media.
The same Gartner study found that 42% of millennials use real-time messaging and social media at work, with 32% use storage or sharing apps.
3. Value social responsibility
More than previous generations, millennials and Gen Z-ers put their advocacy at the forefront of anything they do. The 2018 Deloitte Millennial Survey touched on a majority sentiment—businesses "have no ambition beyond wanting to make money."
It's no surprise that these generations are ready to change their consumption habits if it means supporting brands that can make a difference.
The idealism and passion that both generations have are major driving factors in creating opportunities for themselves to enact positive change in the world. With 60% of Gen Z-ers wanting a job that makes the world better and only 47% of millennials believing that current business leaders are committed to helping society improve, this shift is almost unavoidable.
4. Prioritize technology for business
Being digital natives, millennials and Gen Z-ers aim to inspire, power, and upgrade businesses with access to the right technology. Entrepreneurs from these generations are more likely to get a head start on investing and developing tech ventures.
Additionally, these generations will take the lead in finding opportunities to use technology to make business processes easier and more efficient. A Gartner study shows that among respondents, 53% of non-IT millennials reported that in their attempts to solve a digital technology issue, the first action they would take would be to search the internet for an answer.
5. Maintain a side hustle mentality
In the current socio-economic landscape, the young generations are highly motivated to balance education or full-time employment with a side hustle.
The Manpower Group's survey revealed that while 75% of millennials were in full-time jobs, 50% were open to non-traditional forms of employment, such as freelance, gig work, or portfolio careers with multiple jobs, in the future.
These extra responsibilities are used to help pay for both needs, e.g., bills, financing for small businesses, and educational opportunities and wants. This go-getter attitude goes against negative stereotypes of millennials being lazy and unwilling to take on responsibilities to achieve their goals.
6. Focus on company culture
Company culture has drastically changed in recent years, mostly due to the demands of millennial workers. This generation carried a "work hard, play hard" mentality, citing this work-life balance as a crucial part of success. Because of this, younger generations are more likely to take jobs under companies with a positive corporate culture.
Companies that showed genuine interest in millennials as people experienced an eightfold increase in agility and a sevenfold increase in innovation. More than that, they are just as motivated to be their own bosses by creating their startups and shaping small business culture the way they want to.
7. Make a positive impact on the world
As companies try to catch up with consumers who demand that businesses give back to communities, these young entrepreneurs work towards finding innovative ways to build businesses around their passions and beliefs.
A study from advertising agency Barkley and its company, FutureCast, found that 60% of Gen Z-ers were willing to support brands that took stands on issues they believe in—ranging from human rights to race relations and sexual orientation.
Deloitte's 2018 Millennial Survey also found that 69% of employees believed their working environments could be motivating and stimulating when there's diverse leadership within the company.
Business Leaders of Tomorrow
As the younger generations begin to enter the workforce and small business spaces, they bring with them a positive vision of the future—one where businesses give back to communities that support them and are driven by passion and technological foresight, not just profit.
Capital is the fuel needed to push your company into starting up, staying afloat, and seizing opportunities for growth. For young entrepreneurs looking for help with funding their ventures, Earlypay offers flexible finance to suit your needs. Contact us today!
If you'd like to learn how Earlypay's Invoice Finance & Equipment Finance can help you boost your working capital to fund growth or keep on top of day-to-day operations of your business, contact Earlypay's helpful team today on 1300 760 205, visit our sign-up form or contact [email protected].