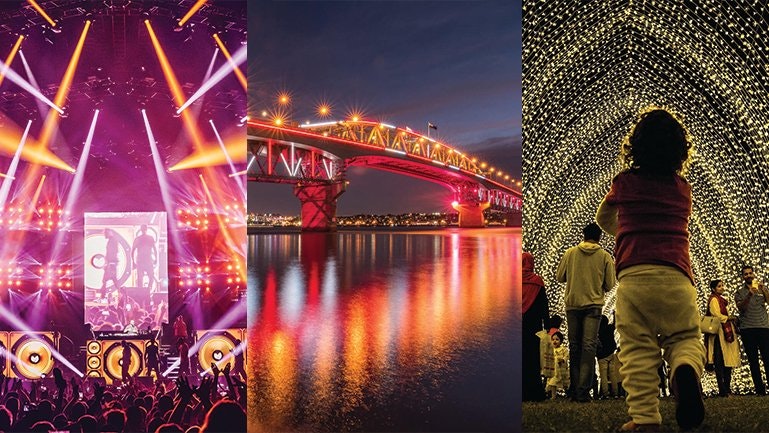 Kate Chalker is the type of person you want in charge of a growing business. Intelligent, enthusiastic, and articulate, she has the air of someone who while juggling multiple balls at once is always in control.
For just under three years, Kate has been the General Manager for Mandylights and in her day-to-day role is responsible for finance and business direction among her many hats.
Formed in 2006, Mandylights is an internationally renowned lighting and visual design company that has enjoyed rapid growth in recent years, and is a true Australian success story.
Operating on a global scale
Like many creative industries, the business had its origins in the music scene with many of its designers and technicians cutting their teeth while working with touring bands. Eventually, this accumulated knowledge came together and evolved into its present-day entity of 14 full-time staff, up 50 contractors, and offices in Sydney and London.
"We've grown to become a full concept to delivery company and with clients across a broad range of industries," said Ms Chalker.
"Mandylights works on big projects, small projects, and everything in between both in Australia and around the world. We work with clients as diverse as local councils through to providing lighting for a major New Year's Eve celebration in Dubai."
Some of the many events and landmarks that the company has lit up over the years include the Singapore National Museum on opening night, Auckland Harbour Bridge, installations at Vivid Sydney, India Auto Show, and the George Street Christmas Display in Sydney.
They have lit up stages around the world for artists including Taio Cruz and Ricky Martin, whilst also wowing Vegas crowds with the Backstreet Boys residency.
Working across multiple countries and timezones is an interesting challenge, but the professionalism of the team has left a lasting legacy and impact on all they have come into contact with. But, as with any company, cash flow certainty would eventually become crucial to ensure that the business continued to grow.
The need for cash flow
The relationship between Earlypay and Mandylights dates back to 2016.
"We utilised Earlypay shortly after I signed on," said Ms Chalker. "As anyone who works in the events industry knows, one of the biggest hurdles you face is that all the costs need to be met up-front with accounts often not settled until much later. This is particularly important when working across a large number of projects at once."
After searching the market, Mandylights found that Earlypay Invoice Finance met their needs and, to their ongoing delight, found that they were incredibly easy to work with.
"They're approachable and knowledgeable," said Ms Chalker. "What was great about working with them was that we were borrowing money that was already owed to us so we weren't going beyond our means. Earlypay was all about open dialogue and were always happy to answer any questions."
"Unlike other invoice lenders, they don't approach our clients. While we understand that if you choose to use this type of loan structure they have a legal responsibility to collect the debt, it can certainly be frustrating for suppliers/contractors if they're constantly having to deal with a third party."
Strategy, growth and results
The injection of cash proved to be fruitful for Mandylights who put it to good use to expand its horizons.
"I think it's fair to say that, under our old structure, we peaked in about 2016 and this was as far as we were likely to go," mused Chalker. "A key challenge that we had to overcome was that our people at the time were and are absolutely brilliant production managers and lighting designers, but lacked that financial and business experience."
"Using an invoice finance loan has really helped us to be more strategic with our growth. We are able to bring forward the cash owed on major projects and divert some funding towards retaining and upskilling our staff. Of course, most importantly of all, we can use the funds to keep the lights on!"
"Looking forward, I hope we can continue to build on our relationship with Earlypay as I can't imagine a world where we aren't using them in the background," Ms Chalker said.
Mandylights is a team of dedicated and professional designers, programmers and technicians delivering end-to-end creative and production solutions for any application. To find out more, visit their website.
If you'd like to learn how Earlypay's Invoice Finance & Equipment Finance can help you boost your working capital to fund growth or keep on top of day-to-day operations of your business, contact Earlypay's helpful team today on 1300 760 205, visit our sign-up form or contact [email protected].