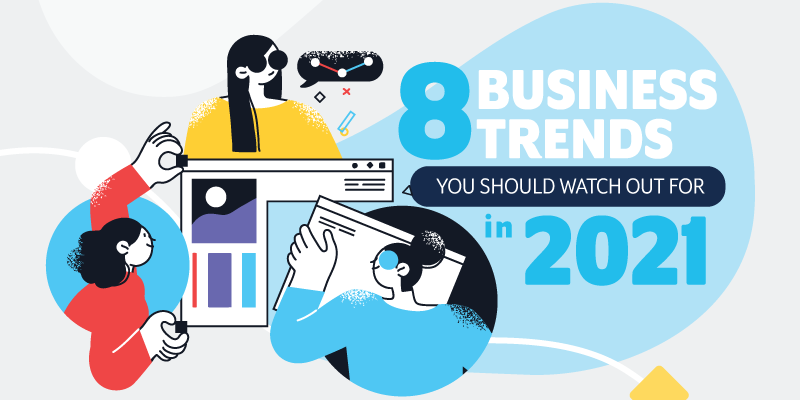 Every entrepreneur dreams of being successful. But while you may not enter into your business ventures with expectations of failure, we all know that achieving success is no easy feat.. Growing your business is an everyday challenge that requires full commitment, dedication, and hard work.
But it's important to remember that although a hard-working attitude can help you keep things in check, diligence alone won't sustain you in the long run.
Successful organisations are highly aware that the business landscape is ever-changing. Since advancements in technology, evolving consumer demands, and other notable trends may cause the market to shift, entrepreneurs must be excellent visionaries. Having the ability to look ahead will help you stay flexible through changes and relevant for the years to come.
Now that many brands are looking to bounce back from 2020, updating yourself with the latest trends will give you an idea of what's about to come. To help you gain a competitive advantage, the guide below will discuss what you should expect in 2021.

8 Business Trends You Should Watch Out For in 2021
It's no secret that 2020 has been a tough year for entrepreneurs. Due to the risks posed by COVID-19, establishments were ordered to close down, consumer priorities have changed drastically, and brands had no choice but to repurpose their services. While it's unfortunate that many businesses have struggled to keep their heads above water during this time, a notable positive of the pandemic is that it has caused a surge in entrepreneurial activity.
Instead of being overwhelmed by the new normal, the challenges that business owners have faced in the past year have inspired them to create new systems. So, as you progress towards the coming months, it's important to be aware of current business trends, and how they will help you to excel in business throughout 2021.
1. Remote work as the norm
Due to government-imposed lockdowns, businesses have been forced to conduct operations remotely. Working from home has been a good solution for many companies, as it has enabled them to limit their fiscal losses, and while providing employees with greater flexibility. While some organisations may be looking to return to the office, many plan to move forward permanently with remote working, or partial remote working arrangements.
2. Data, data, data
With the world shifting towards the digital space, data availability and usage have grown tremendously. The more time that people spend their time online, the easier it becomes for brands to track their consumers' preferences and behaviors. To improve their products, services, and overall decision-making, many businesses will double down on analytics.
3. Invest in automation
More and more businesses are starting to see the value of automation. Since it's a cost-effective solution that can yield significant results, it's expected that companies will reexamine and revamp their operations. For example, certain tasks can be shifted from human supervision to automated functions, such as chatbots, which can take over some processes for speed and convenience.
4. Shift from global to local
The COVID-19 crisis has disrupted international supply chains and trade networks. With the transportation of goods compromised, businesses have shifted their attention towards the local market. You can make considerations to source your materials locally first or localise your operations to deal with the limitations of logistics and movement.
On the other hand, you should also reassess your marketing efforts especially if you are a local brand targeting global markets. Since it's not the ideal time to make transactions from one country to another, tweak your marketing campaigns and direct it to local audiences.
5. Virtual is the way to go
Face-to-face encounters will still be limited in 2021. Lockdown restrictions may slowly be easing, but the shift to remote work has caused companies to rely heavily on virtual platforms. To effectively conduct business operations, it's likely that the use of video conferencing applications and other similar tools will remain high.
6. Continued rise of shipping and delivery
The demand for shipping services will remain prevalent as the majority of the population are staying indoors. Even after the COVID-19 crisis has passed, contactless delivery options and digital payment methods will become the new standard.
7. 5G technology availability
The pandemic has bolstered digital transformation across all sectors. Now that most activities are done online, the demand for faster internet speeds is greater than ever. With that said, you can expect the advancement and implementation of 5G technology to be bolstered.
8. Smart homes, smart cities
The entrance of 5G will lead to the emergence of other technologies. Apart from changing businesses' infrastructure, the introduction of this innovation will affect people on a personal scale.
Eventually houses will turn to smart homes which allow the residents to connect and interconnect their home appliances and devices to the internet and control via a central remote system. Moreover, the increase of smart homes will gradually lead to the emergence of smart cities which are about dealing with city problems (traffic, energy, government transactions) and solving it by data collected from electronic devices and sensors in the city.
Stay Ahead with these Business Trends
Successful business leaders have the innate ability to look towards the future. Having excellent foresight enables them to prepare for the changes to come, and this gives them an easier time to be on top of their field. Paired with a flexible mindset, they can innovate their services and ensure business continuity at a high level.
Now that you have a better idea of what to expect in 2021, you'll be able to stay two steps ahead of the competition. In case you require more funding to scale your brand, Earlypay is here to help. As a leading invoice finance company in Australia, we'll be glad to provide the necessary funding for your business. Contact us today for flexible loans and more.
If you'd like to learn how Earlypay's Invoice Finance & Equipment Finance can help you boost your working capital to fund growth or keep on top of day-to-day operations of your business, contact Earlypay's helpful team today on 1300 760 205, visit our sign-up form or contact [email protected].