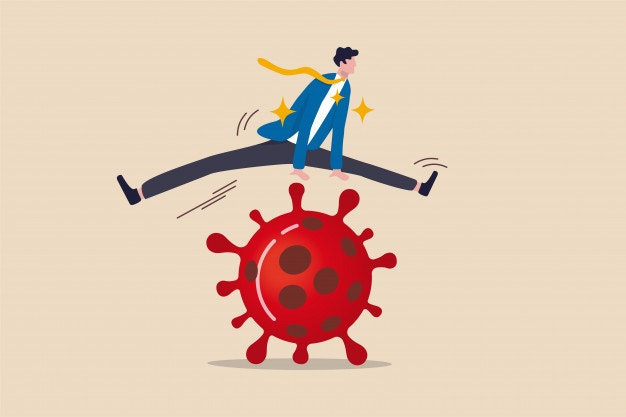 Which Aussie businesses have not only taken COVID-19 in their stride, but are actually doing better than they were before?
The coronavirus pandemic has taken a major toll on many large and small businesses across the globe. With so many people having been ordered to stay at home and avoid going out to eat, getting pampered at the salon, or shopping retail stores, it isn't surprising when a business shares that it's shutting its doors for a while or letting go of staff members.
It is rather surprising, however, to hear when businesses are in fact thriving during these trying times. Here are 5 examples of companies that are booming despite the coronavirus:
1. Mappen
With constant discussion around whether schools will remain open for their second term, it's still important for parents and teachers alike to prepare for the potential limitations on in-person learning.
Danny Ritterman, co-founder and CEO of the education and technology solution Mappen, is offering free online learning support to all schools during this period, according to My Business. Ritterman first built this platform as an online preparation station for students up to grade 6, but is now using his business to offer the curriculum for free to all primary schools across Australia.
2. Wine Depot
As if the Australian bushfires didn't make it difficult enough for wineries to keep business booming, the coronavirus kept this unanticipated downfall coming, making it impossible for people to continue socialising in public places.
Wine Depot, a cloud-based platform used to connect wine industry professionals, is working to ensure local winery owners and consumers alike can continue to benefit from wine. Not only are they offering same-day delivery on alcohol, but they're also helping wineries grow their exposure through a support marketing package.
3. Kogan
Kogan, a primary Ecommerce provider of electronics and appliances - among other products - has noticed a major increase in business since the pandemic, according to the CRN. In fact, its sales saw a 50% increase during March, despite having to close brick and mortar stores.
"I am extremely proud of the way our team has risen to the challenge of the current environment," CEO Ruslan Kogan shared with the source.
"Even more so, I am proud that the portfolio of businesses our team has created over the years has made us so resilient and foundationally strong."
4. Maid2Match
Launched by Toby Schultz and his brothers, Maid2Match is a family-owned and operated cleaning service company that started with the simple gesture of wanting to clean their parents' home.
Today, the business is serving as a major contributor to moving out clean-ups, especially for the businesses that cannot stay open during the pandemic. The company saw a 200% increase in business overall and a 137% increase in job applications in February for cleaners, according to News.com.au.
5. Story Box Library
Some families are experiencing a major change in lifestyle due to their entire household staying indoors more than usual. Story Box Library is one company helping these families out - it's a visual storytelling service that has seen a major increase in sales and subscriptions over the last few months. Additionally, Story Box Library recorded a year's worth of subscriptions in a single month to provide for children who don't have access to their teachers at this time.
How Earlypay can help your business to thrive in 2021
While these examples show how the businesses can thrive during these trying times, this isn't the case for everyone.
With so many businesses struggling to pay their own bills on time, you may have found that the number of unpaid invoices owed to your business has increased. While this is an unfortunate side-effect of the impacts of COVID-19 on the economy and businesses across Australia, it doesn't have to mean a death sentence for your company.
Earlypay offers a range of financing solutions for businesses that are looking for a much needed cash flow boost. With Earlypay, you can bring forward the cash flow from your unpaid invoices with an invoice financing arrangement such as an invoice factoring or invoice discounting facility. These facilities act as a line of credit, something which can be particularly useful if your business has a seasonally affected cash flow.
Further, if your business needs to upgrade or purchase more equipment, but the impacts of COVID-19 have put a pause to your plans, you may also be able to access equipment financing to get your business back on track for 2021.
To learn more about Earlypay's market leading business finance services, all us on 1300 760 205 or email us at [email protected].
If you'd like to learn how Earlypay's Invoice Finance & Equipment Finance can help you boost your working capital to fund growth or keep on top of day-to-day operations of your business, contact Earlypay's helpful team today on 1300 760 205, visit our sign-up form or contact [email protected].