Cashflow Finance & Classic Funding Group have moved!
Learn More
.
Innovative business finance solutions from Earlypay.
Earlypay is making business finance simple with innovative Invoice, Equipment and Trade Finance. Contact us today for a business financing solution tailored to your needs.
Get Started Now
How Aussie businesses use Earlypay
Earlypay supports Aussie businesses of all shapes and sizes and provides a wide range of flexible financing options. Whether you're a start-up making your first big sale or an established business looking for a more flexible finance solution, we can help.
Release cash flow
We can offer Invoice Finance facilities from $50k to $15m. If you have solid invoices with other businesses, we can probably help.
Seasonal stability
Our business line of credit is perfect for seasonal businesses that need a cash flow boost in the quieter months.
Keeping you moving
We specialise in keeping freight companies on the move with our flexible Equipment Finance and Invoice Finance products.
Cash flow confidence
Have the peace of mind of having cash flow when you need it. Whether it's Invoice, Equipment or Trade Finance, Earlypay can support you.
Get started with Earlypay
Earlypay takes the hard work out of business finance. With a simple application process, high approval rates and no real estate security, Earlypay offers flexible finance that grows with your business. Whether it's Invoice Finance, Equipment Finance or Trade Finance, we'll find the funding that's right for you.
We keep it simple
Applying online only takes a few minutes! Approvals can take as little as 24 hours and you can have funding in your account within 48 hours. With seamless integration of our finance platform with your accounting software, you can focus less on administrative duties and more on actually running your business.
Flexible invoice finance
Our business line of credit is secured by your outstanding customer invoices, not your home. Your available funds update as invoices, which are then raised and paid so you always know where you stand. Looking for even more to ease your mind? Earlypay offers a range of optional services including managing collections and trade credit insurance.
The right solution for you
Whether you're a contractor, start-up, established SME, or a large enterprise, our experienced team would love to work with you. We're not like the big banks — it's not an obstacle for us if you haven't been trading for long or your credit history isn't perfect. We'll always do our best to find a convenient solution for you.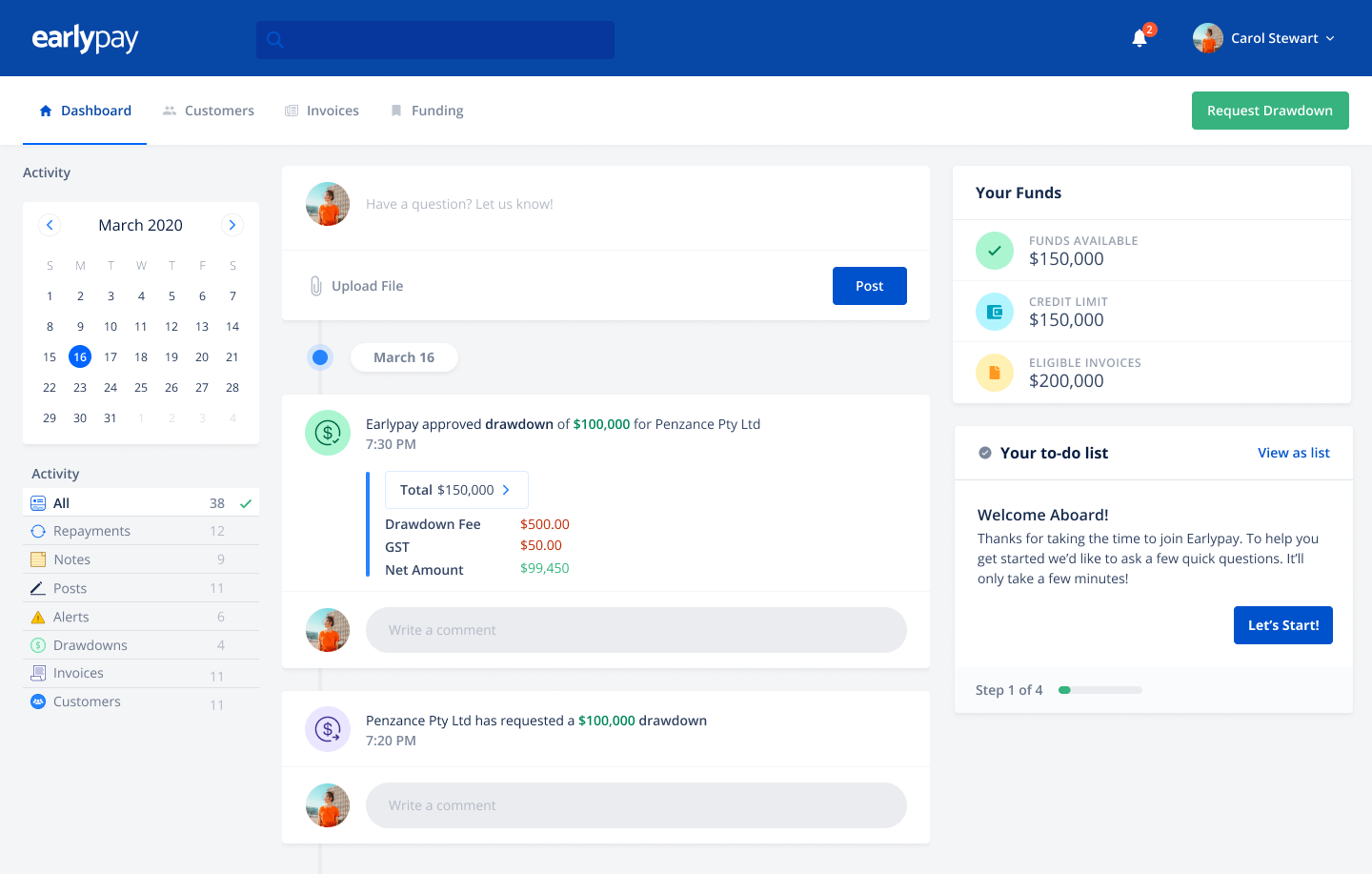 We've been supporting Aussie businesses since 2001.
Contact our friendly team today for flexible finance tailored to your business.
Frequently Asked Questions
How do I apply for a business line of credit?

Simply sign up at earlypay.com.au and enter some basic details about your business. And by securely connecting your Xero, MYOB or Quickbooks we will access the necessary information to fast track your application. We will also ask you about how you invoice your customers. We aim to approve your application within 24 hours and can provide funding within 48 hours.

Am I eligible for a business line of credit?

To be eligible for Earlypay's business line of credit you need an ACN or ABN and outstanding invoices issued to business customers that are for work that has been completed.

We support businesses across all industries including Wholesale trade, Manufacturing, Recruitment, Transport, Business services and many others. We generally can't support Retail businesses and Construction where invoicing is based on progress payments.

Because our business line of credit is based on your unpaid customer invoices, we have more flexibility than other lenders and can often help businesses with short trading histories, less than perfect credit scores and ATO tax debts.

Is the business line of credit a type of business loan?

Our business line of credit is a type of business finance that is more flexible than business loans that have a fixed term and repayment schedule. A line of credit allows you to draw funds only when you need to and the loan is repaid when your customers pay the invoices. With business loans the repayments are taken from your account on a regular basis that might not match the ebbs and flows of your cash flow situation.

How does the business line of credit work?

Our business line of credit is based on the amount of your outstanding customer invoices and when you connect Earlypay to Xero, MYOB or Quickbooks your available funds updates as your invoices are raised and paid.

You can then request funds with a click of button using our simple-to-use online platform and the loan is repaid when your customers pay their invoices.

Is the business line of credit a type of Invoice Finance (Debtor Finance)?

Yes. Our business line of credit is based on your unpaid customer invoices. Earlypay integrates with Xero, MYOB and Quickbooks so your available funds is updated as invoices are raised and paid. This means that the line of credit can grow as your business grows,. Using the outstanding invoices as security also means you don't have to use your home as security.